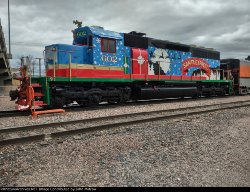 Welcome to the RRPictureArchives.NET contributor site of John Matrow.

In March 2005, the City Council of Wichita, Kan., unanimously approved the Central Railroad Corridor project, a $105-million project to build or upgrade elevated railroad crossings in the downtown area. The council's approval comes after a nine-year effort to design, fund and begin construction on one of the citys largest public works projects ever. Funding will come from federal, state and city governments as well as funds set aside since the 1996 merger between Union Pacific and Southern Pacific.

In April 2005, the City of Wichita began the construction of the Central Rail Corridor Grade Separation Project in downtown Wichita. This project will result in new grade separations along the BNSF Railroad right-of-way at 13th Street, Murdock, and Central, and new grade separation bridges at 1st and 2nd Streets. The total cost of this project is $98 Million dollars, made up of a combination of federal, state, local, and railroad funds. It will provide 15' 6" clearances.

BNSF trains started using the new overpass on October 16, 2007.
UP trains started using the new overpass on March 16, 2008.
Track #2 complete and in use March 30, 2009.
Dedication October 12, 2009


In addition:
1) Replace the heavy load portion on tracks over Douglas Ave (includes new lead to Great Plains Transportation Museum)
2) Reroute UP through trains from Central to 21st St but retain trackage from 13th to 21st for industrial trackage.
3) Close 15th & 18th St. crossings.

Trackage plan appears to be:
1) Start BNSF trains only on west track. (done)
2) Take up temporary track north of Central (done)
3) Start east wall north of Central (done)
4) Add crossover and east track north of 13th plus 17th St crossing and new UP Jct (done)
5) Start NB UP trains on west track, crossover to east track and take new UP Jct. Reverse for SB. (done)
6) Take up temporary track south of Central (done)
7) Finish east wall south of 13th (done)
8) Add east track (done)
9) Start full bidirectional operations of entire trackage (done)
10) Finish underpass paving & drainage (done)

--------------------------------------------------------------------------------
Wichita Business Journal articles

(08/23/96) Trains, the "Plains" and automobiles
(01/31/97) Arrogant railroad will hurt Wichita
(08/30/02) Architects keeping 'grain elevator' bridges under wraps
(09/06/02) Why can't we take a look?
(10/10/02) City Council considers elevated railway plan
(02/25/03) Central Rail Corridor project ready for bids
(07/02/04) Train Delay
(12/10/04) City rebidding rail corridor project
(03/04/05) Sidetracked central rail corridor readyto move full-throttle in April
(03/29/05) Rail corridor meeting set
(08/19/06) Rust impacts rail corridor project
(08/14/09) Final stages of central rail project set to begin
(10/12/09) Wichita rail project dedicated Monday
(09/10/10) Wichita rail project named one of America's 10 best
--------------------------------------------------------------------------------

From the January 11, 1914 WICHITA EAGLE: Notes on the new union station. An average of 220 men have worked on the plant. The main waiting room is 120 by 65 feet. The Santa Fe has been running its passenger trains over the elevation since October 15. The entire length of the elevation is one and a fourth miles with maximum grade of 0.6 percent. The exterior of the station is finished with Turkey creek stone from Pueblo, and terra cotta. The interior is finished in terra cotta, and the floors are marble. There will be five passenger tracks for branch line trains and three spur tracks, in addition to a double track freight and main line. At one place there will be ten tracks on the elevation, and there will be seven tracks across Douglas avenue. The Douglas avenue subway is 114 feet wide and will include a double track street car line, two 29 foot driveways, and two thirteen and a half foot sidewalks. Clearance is 13 feet over the street car tracks and twelve feet over the driveways. At 1st and 2nd streets there is a 31 foot roadway and two five foot sidewalks, with a 12 foot clearance at 1st street and ten feet at 2nd street. Both streets are depressed two feet.




You may browse my collection of pictures via the menu located on the left hand side of the page. I hope you enjoy the collection and thanks for stopping by!